High Performance Spout Bags for Miracle MUD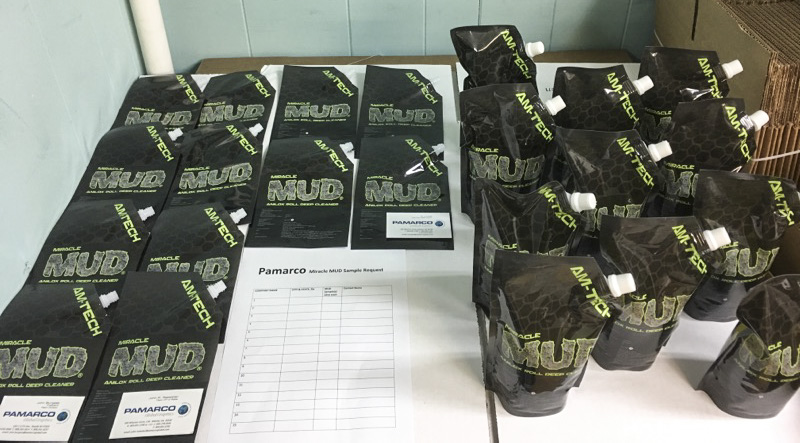 A Built-Tough Spout Bag for Am-TECH's Miracle MUD Cleaner
Chemical-Resistance & Durability in a Flexible Package
AM-TECH's Miracle MUD packaged in spout bags from IMPAK is making a huge splash in the Flexographic Printing industry. Featured at INFO FLEXO 2017 by AM-TECH and their distributors, this highly specialized cleaning compound has found a perfect packaging marriage with IMPAK's economical, fine printed pouch.
Looking to differentiate their product from the competition with design and graphics, AM-TECH chose a 16oz. pour spout pouch from IMPAK. The ability to print high quality graphics in small batches were two of the main deciding factors as to why IMPAK was the right fit.
Working closely with IMPAK during initial material and durability testing, AM-TECH was able to choose with confidence, the pouch packaging that would best suit their chemical resistance needs, as well as suit the long term durability requirements of the pouch after it ends up in the customer's hands.
AM-TECH's Miracle MUD is a deep cleaner used on Anilox print rollers. Miracle MUD removes dried ink from this type of roller so print quality and print consistency can be keep at the highest level. Miracle MUD is used by companies that print on boxes, labels, tags, film and more. The product has been extremely well received both for its functionality and its graphic differentiation when compared to similar products.
Looking for Custom Printed Packaging? Help with Advanced Material Selection? Contact IMPAK Corporation
Miracle MUD from AM-TECH on Vimeo.