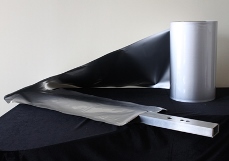 Rollstock and Tubing is simply packaging material that hasn't yet been cut to size. Think of a sleeping bag that never ends. The advantage of rollstock is that you can buy it from IMPAK in 100 yard long tube rolls, in a variety of popular Mylars. A sealer with a cutter is all you need to complete the size package you want.
If you are in need of a custom, mil-spec product or stock film manufactured to your specifications, please contact a sales representative at sales15@impakcorporation.com.
---
Looking for a sealing machine for these types of materials?
Please check out our Handheld Portable Sealers.
Need more information about rollstock specification? Check out for Rollsotck and Tubing specs.
---

Heavy Duty(HD) 60" Impulse Sealer with Pneumatic Cutter and Intelligent Sealing System

Heavy Duty(HD) 60" Impulse Sealer with Pneumatic Cutter and Intelligent Sealing System Demo
---

All Rollstock and Tubing
Showing 1 to 16 of 16 (1 Pages)