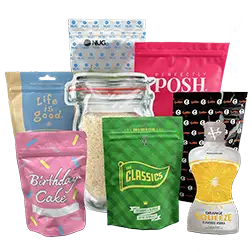 As flexible packaging represents the future of packaging, stand up pouches are at the forefront of items leading the charge. They have replaced everything from coffee tins (#10 cans), animal food containers, tin cans, and many, many more. As a company in business for almost 30 years, IMPAK has had the opportunity to manufacture and stock more stand up pouches than almost any other company we are aware of. Our stock small to medium sized stand pouches you see on here are almost all Doypacks, with Doyen style round bottom seals.
In addition to the numerous pouches in stock at any time, we specialize in providing customer-specific films and sizes every single day, and in particular we cater to a number of customers with large-scale commercial and industrial applications. Need a pouch with a window? DualTrack ZipSeal? Powder ZipSeal? Retort? These are all features we specialize in and are more than happy to discuss with you should you need something that you do not see on this page.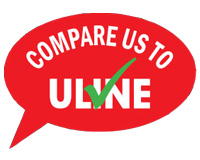 IMPAK carries hundreds of stand up pouch styles compared to the handful available from ULINE. Our prices on comparable pouches beat theirs by 5% to 15%! IMPAK also offers custom packaging, custom printing, and even custom laminations for those with specific materials requirements.
Stand Up Pouch Volume/Capacity Chart (all measurements are approximate)
We will be producing all of our stock stand up bags with rounded corners as our current inventory is depleted and new production runs are scheduled. As a service to our customers, we can still produce pouches with square corners. As stand up pouches production runs are in the 180,000 – 420,000 unit volume, please bear that in mind. A custom short run will require pricing provided by our cost engineering department.
Our Stand Up Pouch Uses
Food Packaging
Jerky products
Candy & chocolate
Coffee packaging
Fruits, seeds, and nuts
Baking mixes
Spices/seasonings
Commercial Packaging
Bath & self-care products
Cosmetic/beauty products
Vitamins/Supplements
Cannabis dispensary products
Cleaning products
Arts & crafts
Animal/Ag Products
Pet food
Dog & cat treats
Farm animal feed
Lawn & garden care
Fertilizer & soil products
Pesticides
Industrial Packaging
Automotive products
Chemical packaging
Pharmaceutical powders
Raw material transport
Hazardous waste disposal
Moisture sensitive components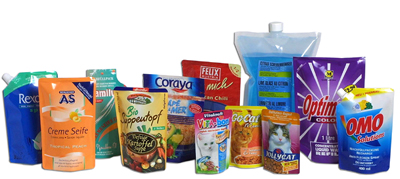 You can even find our Stand Up Pouch image featured on Wikipedia's Brazilian Packaging Market page in the "Products" section.

We can also custom produce printed or unprinted stand pouches in whatever color or style you need. One new option we are offering for those who need a mopre secure Zip Seal, is our TripleTrak Zipper Seal.
Refine Search