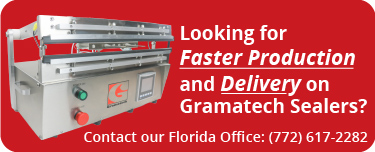 Chamber Vacuum sealers are capable of removing a higher percentage of oxygen from a bag than other vacuum sealers, as low as 0.02%, making this type of vacuum sealer ideal for oxygen-sensitive products.
Benefits of Using a Chamber Vacuum Sealer: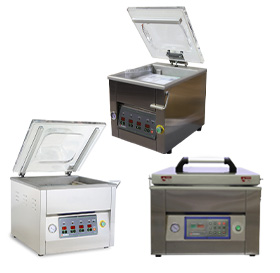 Greater vacuum percentage (lower oxygen) as compared to a nozzle type sealer
A larger seal bar (or more than one) will allow the operator to vacuum and seal multiple pouches at the same time resulting in greater productivity
Little to no operator involvement after the lid has been closed and the cycle has started
Options for percentage vacuum will allow for partial vacuum if making an object immobile is your goal
The compressor is built-in so you don't need any additional equipment
Need Something Custom?
Our Intelligent Sealing System is the solution for custom sealing equipment. iS2 chamber sealers offer a higher degree of control, as well as a more convenient touch screen interface, plus the option to store multiple recipes. The iS2 system does not come pre-installed on chamber vacuum sealers; this is an upgrade and begins with a call to our machinery specialists so they can assess your needs and offer a custom system. Generally, we suggest the iS2 system for 520 units and up and do not offer on smaller units unless by unique requirement. The upgrade pricing to the iS2 System will depend on your specific needs. Learn more about the iS2 System.
Refine Search
Showing 1 to 15 of 15 (1 Pages)