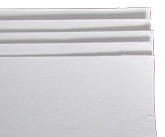 IMPAK's multiple product lines of Desiccant Paper continue to offer some of the most diverse solutions to complex packaging and sorbent problems. Desiccant paper offers high capacity adsorption within a semi-rigid structure, which speaks to its incredible versatility in the packaging industry. Our desiccant paper feature millions of adsorbent particles contained in a semi-rigid cellulose fiber matrix, which enables fast drying and extraordinary versatility in package design.
The finished pieces are able to be machine cut to meet a wide variety of technical drawing specifications or any specialized functions. With 2 grades (Grade 460 and Grade 105) and thicknesses of silica gel impregnated cellulose fibers and 1 industrial carbon-impregnated paper, IMPAK now offers 3 distinctly different types of sorbent loaded paper substrates to meet a wide variety of applications.
Many desiccants are rated by their adsorption or pick up by weight, but in the case of Grade 460 desiccant paper which is 67% silica gel by weight, the pick up is calculated at 0.07 grams of water vapor adsorbed per square inch (0.07g/in² or 10.12 grams per square foot (10.12g/in²). Grade 460 is also a nominal 54 mils thick or 0.054", making it an ideal desiccant option when circumstances do not permit a standard pillow pack.
Advantages:
Can be cut into different shapes and sizes to suit your application.
Easy to apply drying agents that extract moisture from a large range of materials.
Can be formed in a package to provide a uniform environment for moisture control.
Applications include:
Electronic components, computer parts

Lateral flow devices

Bio-medical instruments, diagnostic test kits

Pressed flowers

Biohazard adsorbent pads

Aerospace component storage

Anti-condensation for Lensed devices

Pharmaceutical goods storage (blister packs)

Instrumentation, components packaging
Different Grades - that cover all of your packaging needs.
Grade

Paper Weight

Thickness

Silica Gel

LBS/3000 FT2

GSM

Mils

MM

%

LB/FT2

GMS/FT2

460

460

749

57

1.45

65

0.116

52.5

105

105

171

14

0.36

40

0.014

6.36
Showing 1 to 16 of 16 (1 Pages)