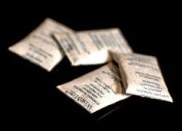 IMPAK Corporation maintains inventory on many sizes of desiccant packets for use across varying industries. Desiccant packets are used to remove the residual water vapor remaining inside of a sealed container or package thus preventing hygroscopic products from experiencing the adverse effects of continuous exposure to water vapor or moisture. Ranging in packet or sachet size from 0.25 grams all the way up to 112 grams with packaging materials such as Tyvek and various woven and non-woven configurations all in stock at our Los Angeles facility.
The amount of desiccant required will vary by application and customer-specific needs such as type of packaging, type of product and amount of headspace and interstitial space after closing/sealing the container among others. Please contact a specialist at 310-715-6600 or flprocessing@impakcorporation.com to discuss your specific application and any special needs your project may have.
Industries & Applications:
Pharmaceutical: Packaging of intermediates and finished drugs
Medical: Microwell plate/microsampling device packaging
Food: Preservation, retail packaging, and much more
Please check out desiccant categories & their tables for easier comparison.
Showing 1 to 50 of 69 (2 Pages)