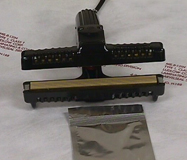 Portable Handheld Sealers
Portable sealers are IMPAK's most popular sealers, and why not? Lightweight and versatile, our hand-held sealers produce wickedly strong, consistently uniform seals. IMPAK offers Teflon coated Sealers, Hot Jaw Sealers and Impulse Sealers in a variety of sizes. No matter your choice, we service all the handheld sealers we sell. Shop below.
Application Feedback from A Customer
One of our customers recently applied Impak's HotJaw Sealer to their unique product. The Hot Jaw Sealer was brought into sub-zero temperatures to package frozen beef and chicken broth. Despite the ultra-cold environment, the HotJaw sealer performed flawlessly.
Trust IMPAK for your flexible packaging, sealer and sorbent system needs.
Need help choosing? Contact IMPAK
Showing 1 to 14 of 14 (1 Pages)