Large Frame Impulse Sealers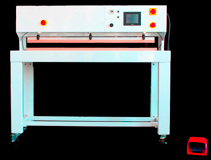 Need heavy duty industrial impulse sealer machinery?
IMPAK builds purpose built heavy duty impulse heat sealers right here in our facility to your exact specifications. Whether vertical or horizontal, each of our impulse heat sealer machines is ideal for handling any packaging material, including polyethylene, laminated films, nylon and even PTFE (Teflon). These heavy duty impulse heat sealer machines are intended for industrial use, sealing mylarfoil bags or poly bags, creating mylar tubing, or other seals. These impulse heat sealers are not designed for home use. From the large frame to the high quality heavy duty transformers, these units are designed for demanding production orientated workplaces. These same frames can be produced with constant heat with water cool options and constant heat bars.
IMPAK offers wide range of industrial heat sealers and vacuum sealers for engineering packaging and modified environment packaging. We are supplying to medical, pharmaceutical, bio technology, electronics, transportation, contract packaging, and other industrial packaging. Custom or stock Sealer, IMPAK services what we sell.
Send your inquiry to sealersales@impakcorporation.com, please.
" Your machine guys promised our 60" bar sealer would ship in 8 weeks --------- it was on our dock in less than FIVE" ------ Comment to IMPAK General Manager ------- From Manufacturing Engineer at a Multinational Military Contractor (Forth Worth, TX)
---


Learn More
Refine Search
Heavy Duty 48" Industrial Impulse Sealer with Temperature Impulse Controller PRE-ORDER ITEM: S..
$0.00
Showing 1 to 1 of 1 (1 Pages)