SpoutPakTM Liquid Spout Bags​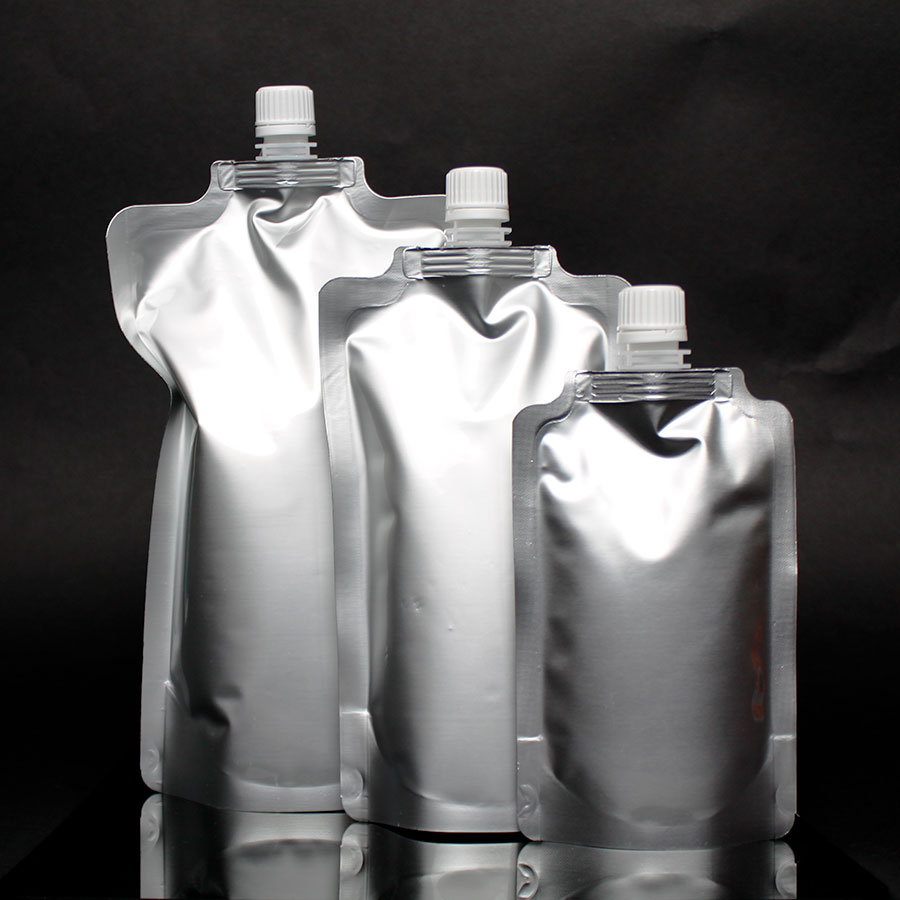 The SpoutPakTM is the latest innovation in the continuing evolution and development of stand up pouches and packaging technology with the integration of closures into the flexible package itself. IMPAK's SpoutPaks feature a recloseable spout which is hermetically sealed to the packaging material. This spout protects the product through its lifecycle and they can be used for both liquids and powders. We have the capability to support investment in proprietary closures and the tooling to produce them.
FEATURES:
All materials are FDA Approved and Food Grade

Gusseted bottom for Standing on Shelves

Reclosable Spout (threaded cap & fitment), Positive Spout Closure

Puncture Resistant,

Heat Sealable, Moisture Proof
SpoutPakTM Bags Table
Due to overwhelming customer demand, future production of the following

highlighted

items will have rounded corners and are currently being offered at a discounted price.
Part Number
Dimensions
Color
Capacity
Case Qty
Shop

Fluid Ounce

Mililiter

Gallon

SP02OZ022MM

1.25" x 2.5"

White

-

-

-

1000

BUY
SP03OZ6MM

1.75" x 3.07"

Silver

-

-

-

1000

BUY
SP0204W6MM

2.0" x 4.0"

White

-

-

-

1000

BUY
SP20MLVF43B

2.875" x 5.75"

Silver

2

59

.016

1000

BUY
SP20MLVF43BFTS

2.875" x 5.75"

Silver

2

59

.016

1000

BUY

SP20MLVF4W

2.875" x 5.75"

White

2

59

.016

1000

BUY

SP0406DTZLC

3.875" x 5.875"

White

3.5

103

.027

1000

BUY

FTSSP100VF4N

3.5"x 5.25" x 1.5"

Silver

4.23

125

.033

500

BUY
FTSSP100VF4NP9600

3.5"x 5.25" x 1.5"

PMS 9600C

4.23

125

.033

500

BUY

FTSSP250CSISL

4.125"x6.625"x2.675"
Sliver
8.45
250
0.066
500
BUY
SP125PM5.5

4.25" x 6" x 2.625"

Clear

5.25

155

.040

500

BUY

FTSSP240PM5.5
4.25" x 6" x 3"
Clear
8
237
0.0625
500
BUY
SP04OZLPFHH

4.25"x7.125"x 2.5"

Clear

10

295

.078

500

BUY

FTSSP90PM5.5

4.375" x 6.125"

Clear

-

-

-

500

BUY

SP300PFN56

4.5" x 7" x 2.5"

Silver

10

300

.080

1000

BUY

SP250PM5.5

4.625" x 7.75" x 3"

Clear

12

360

.095

500

BUY

SP04607703VF4N

4.625" x 7.75" x 3"

Silver

13

384

.10

500

BUY

SP300MFS16SC

4.75" x 7" x 2.5"

Silver

9.36

277

.070

1000

BUY

FTSSP500CSISL
5" x 8.625" x 3.125"
Silver
16.91
500
.1321
500
BUY
FTSSP500GPM5.5

5.5" x 9" x 3"

Clear

20

591

.160

500

BUY

SP500GPM5.5

5.5" x 9"x3"

Clear

20

591

.160

500

BUY

SP475VF4N6X

6" x 7.5 " x 5"

Silver

21

630

.170

500

BUY

SP600MFS06

6" x 9" x 3.25"

Silver

22

660

.174

500

BUY

FTSSP1000CSISL

6.25"x10.5"x 3.625"
Silver
33.91
1000
.2642
250
BUY
SP0550903VF4N

5.5" x 9" x 3"

Silver

25

739

.195

500

BUY

SP1000PM5.5

6.5" x 10" x 4.375"

Clear

33.81

1000

.264

250

BUY

SP1LBW

6.5" x 10.5" x 4"

White

33.81

1000

.264

250

BUY
FTS05DG

7" x 10.5" x 3.5"

Clear

67.63

2000

.528

250

BUY

SP15L33SH
7.25" x 10" x 4"
White
-
-
-
120
BUY
FTS15LBWH

8" x 11" x 3.5"

White

50.72

1,500

.396

250

BUY
FTSSP2LCSISL

7.375" x 12" x 4"

Silver

67.36

2,000

.528

250

BUY

FTSSP2LCSISLT

7.375" x 12" x 4"

Clear

67.36

2,000

.528

250

BUY

SP15L75M

7.8" x10.62"x4.37"

White

50.72

1,500

.396

250

BUY

SP05PM5.5

8.5" x 11" x 4"

Clear

64

1,893

.500

250

BUY

SP05PM5S23

8.5" x 11" x 4.25"

Clear

-

-

-

250

BUY

CSP0912BG04

9.0" x 12.0" x 4.0"

Silver

101

3000

0.79

250

BUY

FTSSP1GPM5.5

11.125"x12"x5.75"

Clear

108

3,200

.845

250

BUY

SP1GPM5.5

11.125"x12"x5.75"

Clear

108

3,200

.845

250

BUY

SP135GPA22

13" x 12.75"x6"

Clear

165

4,900

1.30

200

BUY

SP185GPA22

16.5"x12.5"x7"

Clear

253

7,500

1.98

100

BUY

SP265GPA33

16.5"x15"x7"

Clear

348

10,300

2.70

100

BUY
SP10LPA33-10bags
10.375"x18.125"x9.5"
Clear
338
10,000
2.64
10
BUY
SP10LPA33

10.375"x18.125"x9.5"

Clear

338

10,000

2.64

50

BUY
SP20LPA33-10bags

11.8"x21.2"x11"

Clear

676

20,000

5.28

10

BUY
SP20LPA33

11.8"x21.2"x11"

Clear

676

20,000

5.28

50

BUY
SP33LPA33-10bags

13.0"x 25.5" x 11.75"

Clear

1116

33,000

8.71

10

BUY
SP33LPA33

13.0"x 25.5" x 11.75"

Clear

1116

33,000

8.71

50

BUY
Showing 1 to 30 of 47 (2 Pages)