RapidSealers​ (Band Sealers)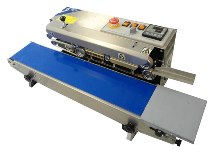 Here at IMPAK, we think Band Sealers are the bomb. Also known as rapid sealers, Band Sealers are ideal for high volume packaging and sealing thermoplastic materials like polyethylene, plastic lined, foiled and gusseted bags of almost any size or length. Operating speeds can be set lower or higher without wear to the Sealer. Each Sealer features a variable speed conveyor belt that can be raised, lowered and even angled to accommodate any package. Owning a Band Sealer expands your workforce by one person by cutting packaging time in half.
At IMPAK we stock horizontal Band Sealers (meaning the bags lay flat on the belt) in various sizes and for different applications. If you don't see exactly what you are looking for, don't despair. We can fabricate a custom Band Sealer to your exact specifications. We service the Sealers we sell, and even the ones we don't sell. That's the IMPAK difference. Call us with any questions or email us at sealersales@impakcorporation.com.
Learn how to use Rapid Sealer TM - watch video
Refine Search
Showing 1 to 23 of 23 (1 Pages)