We Rent Sealer Machines.
In order to find out current available sealers, please ask us what is available. Contact us at sealersales@impakcorporation.com or call 310-715-6600 ext 202, please. Rental period can be made weekly basis with 2 weeks minimum period. All machines require a refundable deposit prior to shipment. See our full machine rental agreement​.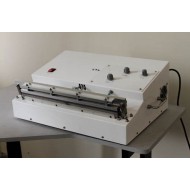 ANG460ED - Air N Go 18" Retractable Nozzle Vacuum Sealer​ Rent $195.00 / week (2 week minimum) ..
$195.00
KF108 Home and Lab Vacuum Sealer Rent $15.00 / week (2 week minimum) $100 deposit required. &n..
$15.00
Showing 1 to 2 of 2 (1 Pages)