Case Study: How Stand Up Pouches Drive Sales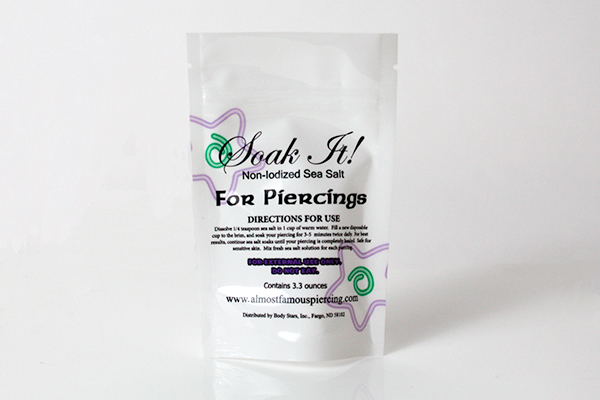 Almost Famous Body Piercing ditches "sandwich" bags for a glossy Stand Up Pouch
When Carol Tepley, owner of Almost Famous Body Piercing, began to update her body piercing stores with a new spa-like aesthetic, she wanted to update her packaging to match. Her sea-salt product called Soak IT! helps customers care for their piercings, but it was packaged in sandwich-style zipper bags that didn't represent the quality of the product inside. And the issue went beyond looks; the flimsy construction of the bags was causing product loss due to the zippers and seams breaking.
Small enhancements go a long way.
The new bags also offer better security with the option to seal them above the zipper. This insures contents aren't tampered with before they reach the customer. Instead of opening the product bag, customers can view contents from the back of the bag which is clear. These small enhancements make a big difference for customers.
The new stand up bags offer better quality and greater visibility to increase sales.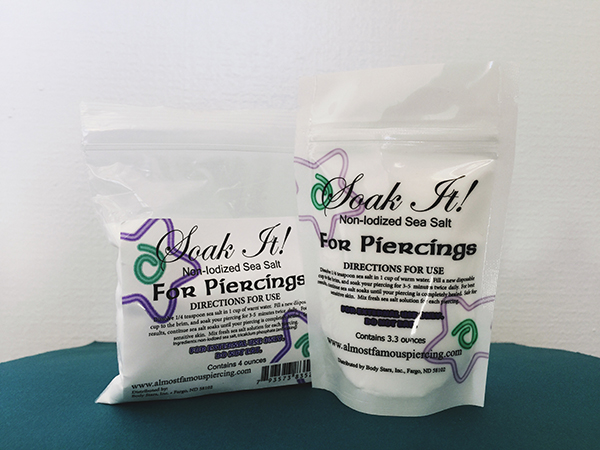 From Sandwich-Style to Stand-Up
"We find the new bags have a much more secure zipper seal, and that is a huge improvement over our previous packaging.
The more secure, reusable seal, makes it easy for our customers to take their aftercare with them to care for their piercing wound no matter where they are."
Advantages over the previous bags:
Option for tamper evident seal protects contents
Better material has stronger barrier (keeps contents fresh & locks out moisture)
Professional custom printing enhances brand image
Stand up style pouch offers better retail presentation
IMPAK was able to create a package that better suited the high-end, boutique atmosphere of Almost Famous Body Piercing, and addressed all of the previous quality concerns.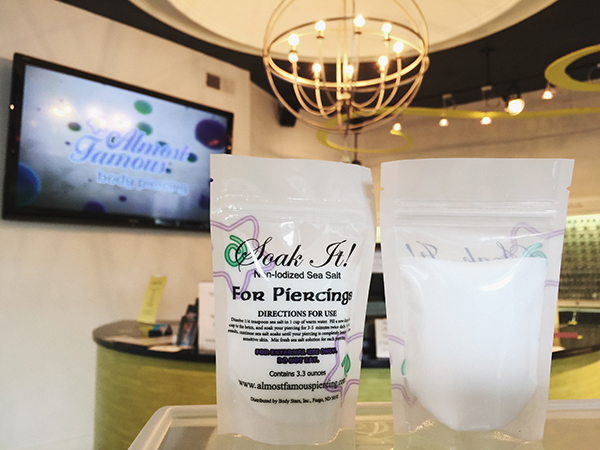 You can find "Soak It!" in its flashy new package at any of Almost Famous Body Piercing's 5 retail locations, and on their website. To create your own custom retail package, contact IMPAK Corporation at sales15@impakcorporation.com.
IMPAK's Custom Capabilities
Using materials such as metalized films, foil laminations, and custom blended barrier films, our stand up pouches are constructed to not only be appealing but functional. We offer re-sealable zip lock closures, release valves, ultra clear films, and even pour spouts. Need a pouch with a window? DualTrack ZipSeal? Powder ZipSeal? Retort? These are all features we specialize in and are more than happy to discuss with you.