AERO's Flexible Package from IMPAK Showcases at SEMA Auto Show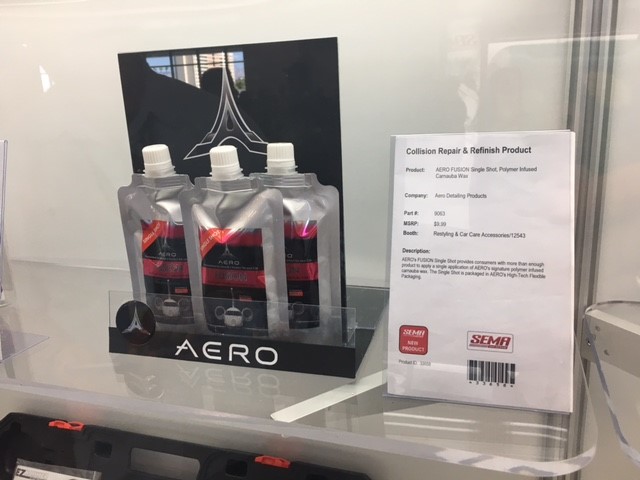 AERO's specialty wax is packaged in a flexible spout bag from IMPAK and was recently on display in the New Products Showcase at SEMA, the world's premier automotive products tradeshow held yearly in Las Vegas, Nevada.
The decision to use a spout bag for AERO's automotive wax is a great example of the growing trend toward packaging that creates less material waste, and offers greater convenience through a single-serving format. Innovative brands such as AERO challenge the early assumption that spouted bags were reserved for packaging food and beverage products.
Thanks to the high-tech multi-layered materials offered by IMPAK, brands in chemical and automotive industries can utilize flexible packaging for products ranging from sealants, adhesives and waxes to household cleaning agents.
Each AERO FUSION pouch contains a single serving of polymer infused carnauba wax that adds a rich gloss and durable protective layer to painted surfaces. AERO wanted to use a flexible package, but their specialty wax needed to be compatible with the material of the bag. Product specialists at IMPAK helped AERO with an appropriate package: a spout bag made from a high-tech material capable of handling aggressive compounds. The result is an eye-catching, convenient pouch that stands out against the competition while reducing material waste.
Looking for help with your next packaging project?