CSA Certification Announcement
IMPAK is proud to partner with a major Multi-National Pharmaceutical Company and to have been granted a CSA Certification for its industry leading line of Gramatech Vacuum Heat Sealers. "We are now ready to offer CSA registration as an option to our industry leading line of Gramatech Sealers," according to Rajib Hasan, Managing Director, Machine Group.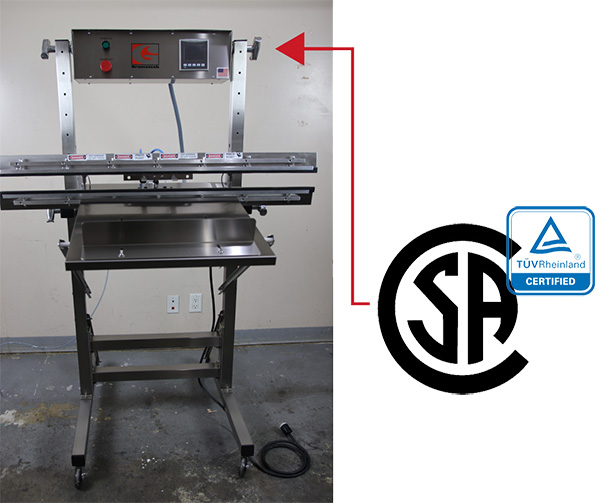 As the company General Manager has said, "We are very proud of the machinery we have built to CSA standards." The story below written by Alan Masnek, our resident Certified Packaging Professional (CPPL) and graduate of University of Wisconsin – Stout, illustrates the steps that were taken to design, develop and produce a piece of equipment for pharma MNC. This particular MNC is just one of the many top medical manufacturing firms we are proud to have produced product for.
Many people have seen machines coming from Asia with the CSA logo on them. There are the companies that believe CSA compliance is achieved simply by assembling parts that other suppliers have "stated" are CSA compliant even those parts may not be CSA compliant. We refer to this in the industry as something that is "Chinese Excellence" since we all know that China's version of "excellence" is a lot lower than the rest of world. With IMPAK's additional experience in producing and certifying Explosion Proof machines that are verified by third parties, such as UL and CE, we long ago learned that simply assembling an Explosion Proof machine with CSA compliant components will not provide you with a certifiable Explosion Proof piece of equipment.
For example, here is piece of equipment from a well know manufacturer with exposed wires running from the transformer to the heating band. CSA requires that this wire be wrapped in conduit and positioned flush with the surface of the seal bar. According to the third party certification auditors that certify compliance, "This method is good – but not good enough."
| | |
| --- | --- |
| Proper Wiring for CSA​ | ​Competitor's Heat Sealer - Not acceptable |
As a result of the pandemic our engineering staff realized the importance of the sealers we manufacture to the world's supply of medicines and PPE. If you are interested in having your sealer certified for CSA, please contact an IMPAK representative for further details at sales15@impakcorporation.com.
CSA marks indicate your product has been tested against applicable standards. CSA stands for Canadian Standards Association, but helps develop and test standards for all of North America.