A Hook2Hook Zipper for Flexible Packaging
A Hook2Hook Zipper for Flexible Packaging

This wide press-to-close locking zipper offers one of the fastest opening and closing experiences. Opening is as simple as pulling the sides apart, and closing doesn't require lining up the two sides of the zipper. The wide track closes even without perfect alignment, and confirms the close with an audible noise; no more struggling to get the zippers lined up, or worse yet, realizing the bag was never closed when you go to reopen it.
What is Hook2Hook?
Hook2Hook, or hook-to-hook fasteners are wise strips of small plastic hooks that "mate" or interlock to close. These plastic hooks can handle repeated use without much wear-and-tear and are ideal for packaging food and powder type products because the zipper can seal through powder, crumbs and other product debris.
Hook-to-Hook vs. Hook-and-Loop
Unlike hook-to-hook fasteners which have interlocking plastic hooks, hook-and-loop fasteners are characterized by a strip of looped fibers that pair with a strip of micro-hooks. Hook-and-loop fasteners were first introduced by the VELCRO® company. (The VELCRO® trademark is the property of Velcro BVBA, which does not sponsor, authorize, or endorse the IMPAK products referenced on this page)
Seals Through Powders
Standard zippers are difficult to use with powdery products. Powder caught in the zipper tracks can prevent the bag from properly sealing, but the interlocking micro-hook system that makes up the wide track of this new zipper system can seal right through powdery products. Gaps between each hook allow powder to fall back down into the bag.
Protein powders, detergents, pet food products, candies and snack items are just a few of the popular applications for this zipper style.
Advantages
Quick & Easy to Open/Close
Seals Through Powder
Tamper-Evident (Heat Seal Above Zipper)
Zipper Seals Without Perfect Alignment
Durable Plastic Zipper Resists Wear-and-Tear
Audible Close & Open
Unique & Appealing
Typical Applications
Bath Salts & Soaks
Dry Foods
Clothing & Dish Detergents
Pet Foods
Candies & Snacks
What About Barrier?
IMPAK is an authority on barrier packaging and can advise customers on the appropriate solution to their packaging needs. The wide-lock hook-to-hook zipper is suited to items with long shelf-lives and lends itself to powdery products. The close set micro-hooks act as a particle barrier that keeps contents in, and keeps debris out. However, the zipper is not fully air and water tight. For many products this is actually ideal.
Note that this product has a space above the zipper to be heat sealed. This means products are sealed in an air tight space until the consumer tears the strip off to expose the zipper. The bag can then be sealed and resealed until the product has been consumed or used.
If you need help determining the level of barrier protection required for your product, talk to our team.
Custom Options
Speak to our packaging specialists about options for custom sizes and printed packaging with this zipper style.
Samples in The Marketplace
The following images are of products which employ a similar zipper style.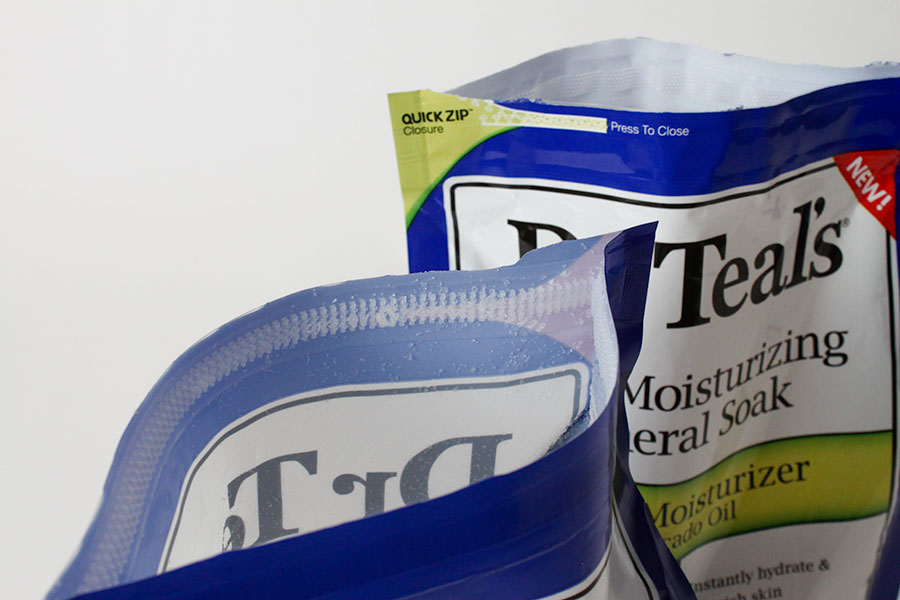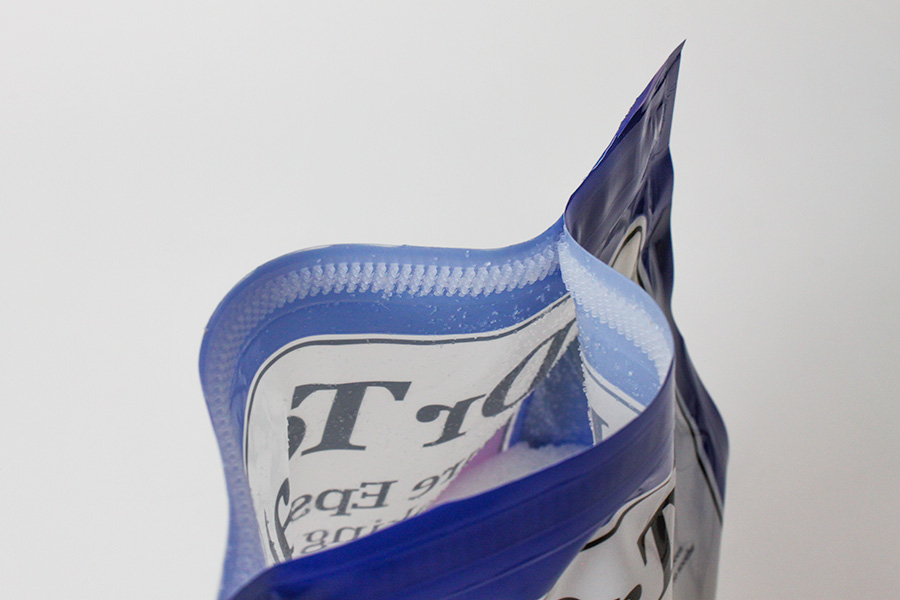 ---
Order IMPAK's Pre-Made Hook-to-Hook Zipper Bag here: FDR0475VZ - 9.0" X 13.375" X 4.75" Stand Up Pouch with Hook2Hook Zipper