Product Focus: 2.375" x 3.0" Mini Pouches
Product Spotlight: IMPAK's 2.375" x 3.0" Mini Pouches (02375MFD03ZTE)
IMPAK Corporation has gained a reputation for engineering some of the smallest pouches in the industry.
The 2.375" x 3.0" MiniPouch is a small format pouch that has seen use as a promotional package to send out small product samples, and as a finished product package for small parts and devices.
The polyethylene and lamination of film foil act as a high barrier film sealant layer with a low WVTR (water vapor transmission rate.) This pouch is made from FDA compliant materials safe for food. This advanced material pouch is ideal for packaging products which are susceptible to corrosion, and in food or medical device packaging, where very low oxygen levels are required.
Our customer applications for this small pouch are varied: they include shipping, supplements, medications, chemicals, epoxies, powders, hygroscopic items, food, and small medical devices or microchips. Contents are protected via a tamper-evident header that is opened via a tear notch and once the header is removed a ZipSeal™ zipper offers reclosable functionality and convenience.
---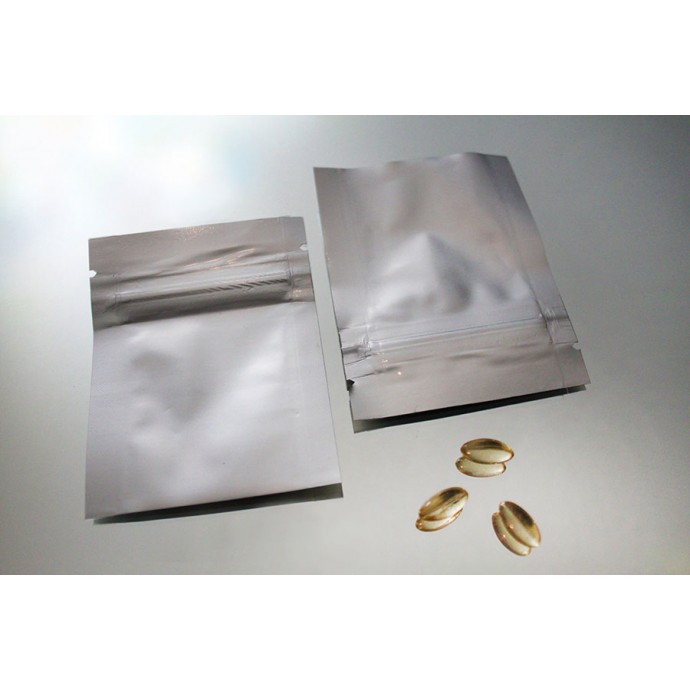 ---
This product is in use by a diverse range of industries including:
Food and Supplements Industry: Our customers in the food and supplement industries are packaging small portions of their products and shipping them as samples to their own network of customers. The small design and superior barrier properties protect their samples while being shipped. The tamper evident tear notches and resealable features allow the customer to reuse and store their samples while not in use, ensuring the food or supplement sample is fresh upon arrival with lasting shelf life.
Medical Industry: Some of IMPAK's customers are using the 2.375" x 3.0" pouches to store medications and tissue samples sensitive to their environment. The material composition of the pouch offers very low water vapor transmission rates and provides enhanced barrier protection against light, moisture, and oxygen. For our customers in this industry this is a critical concern. Uses include storying medications, small electro devices or chips, and tissue samples.
Chemical Industry: Our customers in this industry enjoy the versatility of this small pouch, as well as the advanced features. With high breaking, bursting, and puncture strength, our customers enjoy the peace of mind knowing that the samples they send, or the samples they store are not going to corrode or lose their chemical or molecular properties. Chemical-based products used with this pouch have included products from epoxy to hand sanitizers, to fragrances, and different oil samples. *If you have a more corrosive or aggressive product, please contact us to see about other pouches and materials for your application.
Medical Marijuana Industry: With this fast growing industry the uses of this pouch are great for storing and resealing small quantities. Producers enjoy the small durability of the pouch and ease of sealing the pouch with an impulse heat sealer, while their customers enjoy the reclosable zipper. Uses include edibles, small gummies, sample portions, concentrates and medical marijuana. The tear notch and zip seal make this an ideal pouch for this industry to be able to reseal and store their products while providing protection to the contents inside.
Other Uses and Applications: With the versatility and range of possible applications, this pouch is used by customers to store and transport jewelry, small hardware samples, parts, powders, drink mixes, oils and incense.
The superior barrier properties, small design, ease of shipping combined with the competitive pricing make these Mini Pouches ideal for small samples and product launches.
---
MiniPouch Specifications:
Size: 2.375" x 3.0
Format/Material: 3 sides tamper evident zip sealed with tear notch MylarFoil - Food grade, 4.5 mils thick. In foil PAKVF4D material
Quantity: 5000 bags per case
The multi-layered material of our Mini Pouch is ideal for sample packaging. Not only does it protect contents from light, moisture, and oxygen, it also uses a superior 4.5 mil thick, food grade material that easily seals through powder and oil, without compromising the quality of the heat seal.
Aluminized Mylar bags are the ideal choice for long term food and sample storage, they are easily resealed and reused.
---
Features & Advantages
· Puncture resistant, food-grade material (FDA APPROVED) (PAKVF4D – 4.5mil)
· Superior barrier properties protect from light, oxygen, and moisture
· Many standard sizes (see our Mylar bags page for more unique sizes)
· Space saving for reduced shipping costs
· Reusable/ resalable: may be sealed again and paired with an oxygen absorber when contents are not used in one setting
· Material seals through oil & powders, without jeopardizing the heat seal
· Ready to pair with our sealers and oxygen absorbers
---
Order theme here: 02375MFD03ZTE
Smaller (and larger) Mylar pouches are available in standard aluminum foil and may be found here.
Clear boiling bags, or channel bags may be found here.