ARTICLES | VIDEOS | PRODUCT TABLES | SPECIFICATIONS | LINKS
---
| | |
| --- | --- |
| SERVICES | |
| FLEXIBLE PACKAGING | |
| TECHNICAL ARTICLES | |
| PACKAGING MACHINES | |
---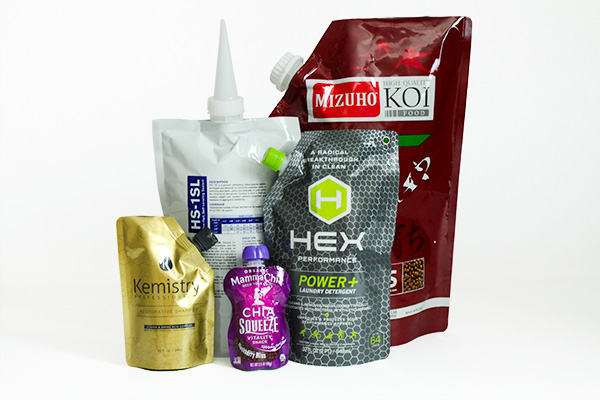 Innovative Fitments and Spouts Drive New Markets to Flexible Packaging:
At IMPAK we design and produce flexible packaging with unique fitments that meet the varied needs of our customers whose industries range from pharmaceutical to food and beverage. Spouts and fitments offer new functionality to flexible packaging and open this format to new markets. The light-weight on-the-go convenience of spouted bags has long appealed to the food and beverage industry, but thanks to new innovations in fitment technology and barrier films, fitment pouches are gaining traction for a broader range of products such as household cleaners and gardening items. IMPAK offers both stock and custom-made spout bags. [See full Article]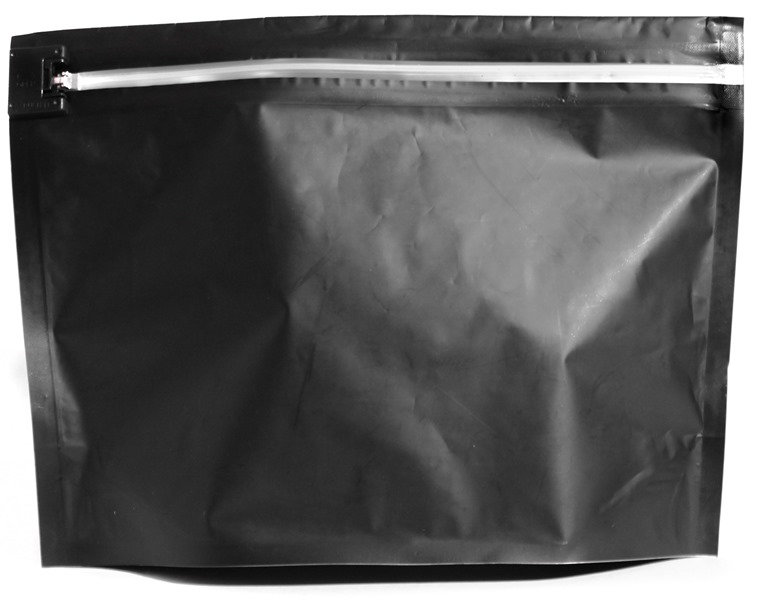 Easy For You, Tough For Tots
IMPAK Corporation has introduced a Child Resistant Pouch to combat accidental ingestion of poisons by children, especially curious toddlers.
With the proliferation of consumer products that resemble candy or treats, there's been an uptick in incidents of accidental poisoning. Our pouches can drastically reduce these tragic incidents by offering special child resistant packaging shaded to minimize interest by curious children. Various sizes of the pouch can be made by IMPAK upon request. [See full Article]
---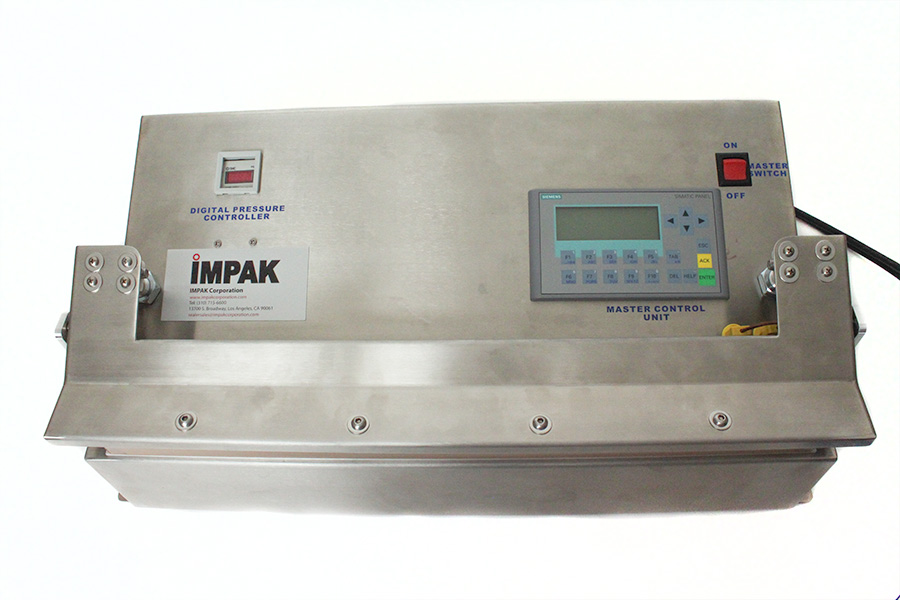 Medical Pouch Sealers & The Siemens Upgrade
IMPAK Corporation introduces The iS2 Medical Pouch Sealers which are validatable sealers in 15", 20" and 25" seal lengths and feature a Siemens controller. These medical pouch sealers are the most accurate systems on the market with readings every millisecond, and temperature accuracy within one degree. See how an upgraded controller offered more precise, repeatable seals. [See full article]
---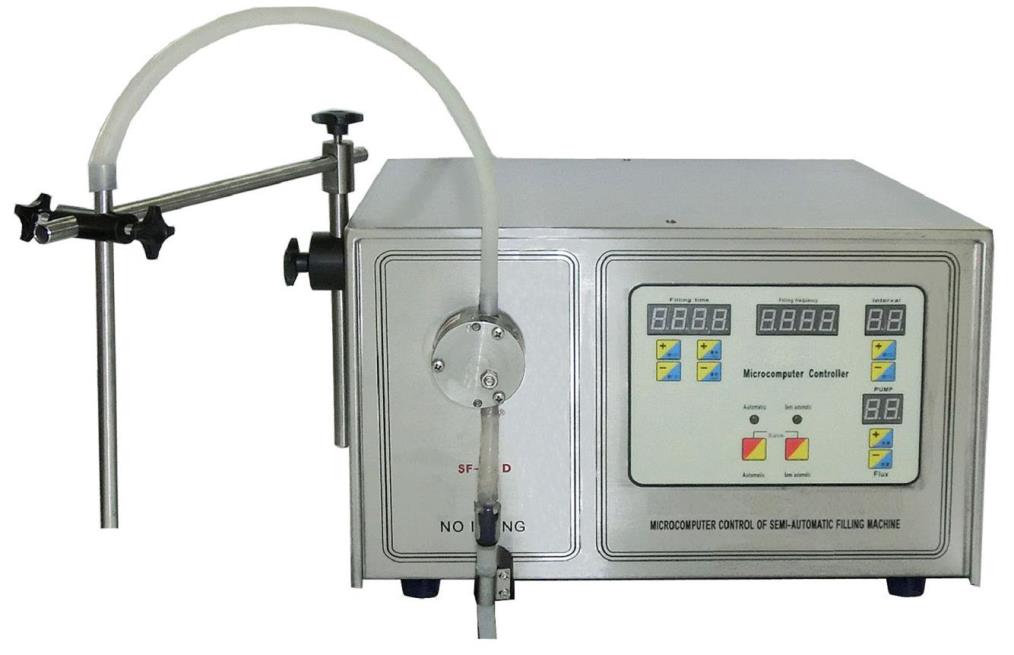 IMPAK's Gear Pump Filler/Liquid Filler is a single pump, gear-actuated, micro-processor controlled Filler with versatile controls.
The unit, with its simple yet precise filling architecture, (via surgical tubing input/output) makes it perfect for handling granule free liquids; everything from medications, chemicals, grease, cosmetic and various food products.
The durable foot pedal allows hands-free operation (less handling = less chance of contamination). The use of surgical tubing makes fast work of cleanup, sterilizing or product switch.
Operation is straightforward. Simply attach input tubing to liquid source, whether a 5-gallon bucket or small cup. Turn on the heavy duty stainless steel Filler and adjust filling time. The Filler is portable (15 ¾" X 10 ¼" X 11") and lightweight (less than 25 pounds) to allow the most flexible setup options.
Auto or Semi-Automatic modes with adjustable interval time helps the operator set the perfect pace for their particular Filling operation. The Gear Pump Filler easily outputs 500ml (or 16.9 ounces) every 10 seconds.
---
Portable sealers are heat sealing and vacuum sealing units that can easily be managed by a single user, easily moved from one work station to the next and require no additional equipment (i.e. compressed air line).
IMPAK carries a large range of portable heat and vacuum sealers that meet the requirements of many industrial and home applications.
Plug 'N' Go- PNG460E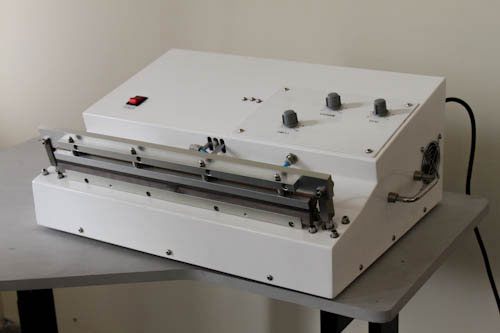 Plug 'N' Go (PNG) tabletop vacuum sealers are light weight industrial impulse vacuum sealers with gas flush options available. Weighing under 100lbs, these units can easily be moved from one work station to the next in a production setting. With a footprint of 22" x 15" these unit require a minimal amount of space and can easily be placed into storage when they are not in use. The self-contained compressor allows end users to have the machine out of the box and up in running in less than 5 minutes.
Features: 18" seal Length, 0.5" seal width, internal compressor, foot pedal operated
Options: Gas Flush
---
Commercial Grade Hand Held Sealers - HHI Series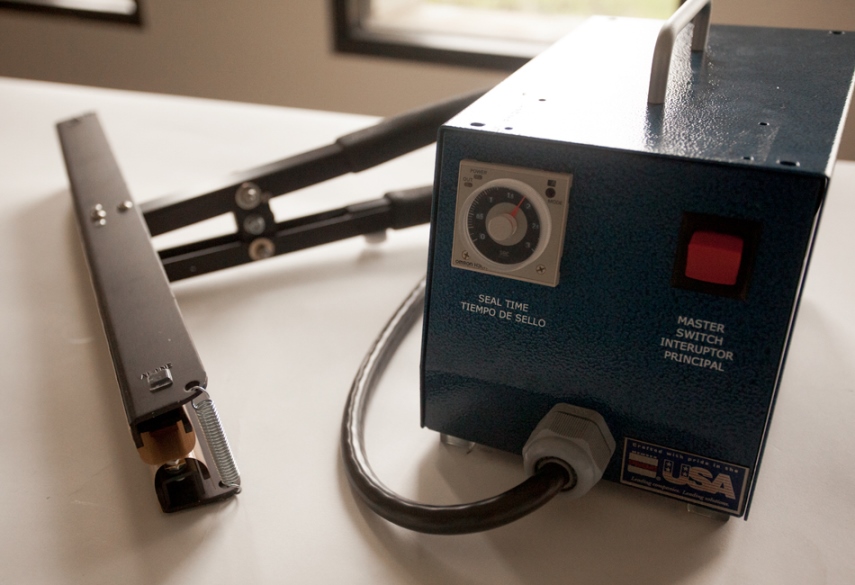 The Hand Held Impulse (HHI) Sealer series was developed with industrial applications in mind. Our engineers and customers worked together to develop a series of hand held impulse sealers that was durable yet not as heavy as other hand sealer out on the market. Utilizing aircraft grade aluminum in the manufacturing process provides the strength and durability to withstand the most grueling applications, yet reduces the overall weight. The HHI series affords the end user a unit that is reliable, durable and easy managed over an 8 hour shift.
Available Sizes (Seal Length): 8", 12", 15", 18" and 26"
Options: Dual Element (Bi-Active Heat), ½" Wide Heating Element, Quick Disconnect, Custom length cord
NEED A CUSTOM UNIT?
CUSTOM UNITS BUILT TO CUSTOMER SPECIFICATIONS.
Contact machinery dept. Email: sealersales@impakcorporation.com. Phone: (310) 715-6600 ext. 207
---
Impulse Single Tube Sealer- THS177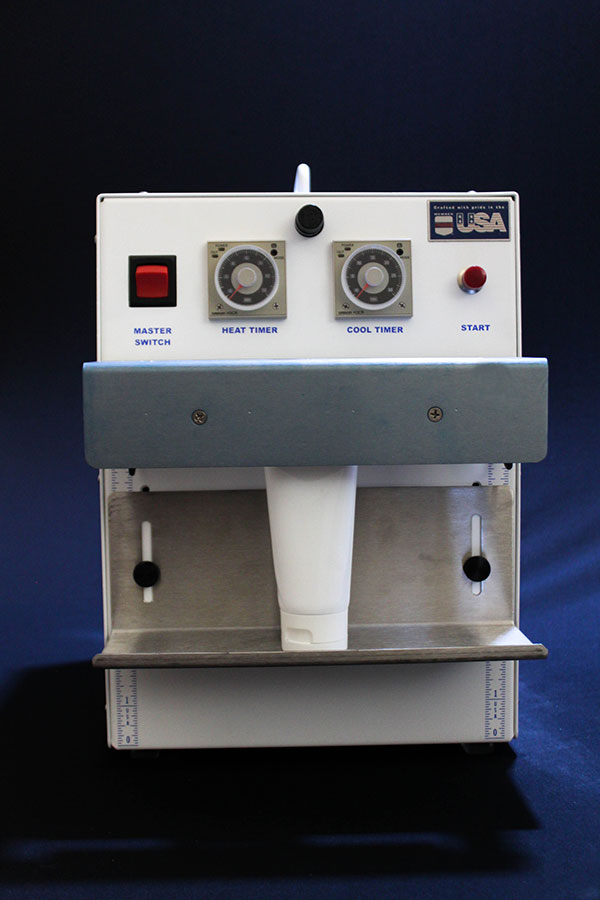 Initially developed for the cosmetic and beauty industry the THS177 has been used in R&D facilities for prototype development in a wide range of industries, yet it remains a favorite among owner/operators of compounding pharmacies for regular small scale production.
Light Weight (33lbs.), self-contained compressor and small footprint (10" x 10") provides users with an impulse tube sealer that is easy to manage and ideal for small work spaces. With the ability to seal over 6 tubes a minute, the THS177 can keep up with demand while providing a high quality sealed tube.
Features: 7" seal Length, 0.25" seal width, internal compressor, and adjustable stainless steel stand
Options: Dual Element (Bi-Active Heat), ½" Wide Heating Element
---
Rapid Sealer (Band Sealer) Series - RSH1525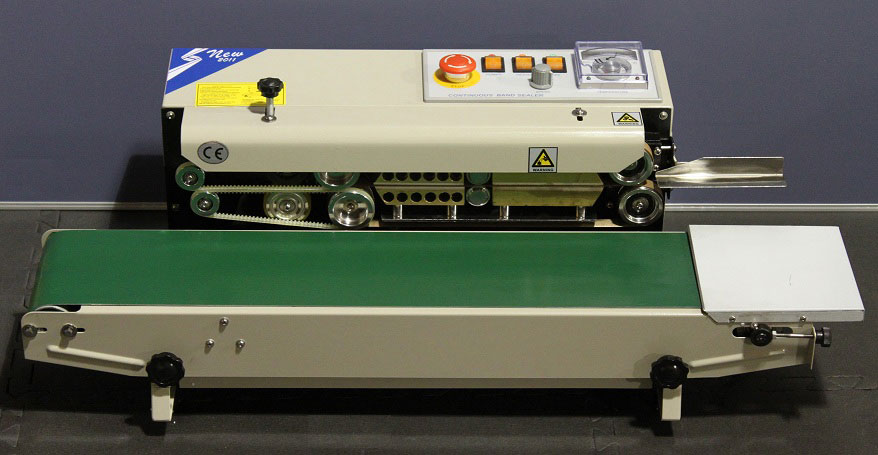 Rapid Sealer (AKA: Band Sealers) are ideal units for applications where speed is necessary to keep up with increased production. Weighing less than 60 lbs., these units can easily be moved, setup and run using a single production team member. With the ability to seal up to 1000 pouches per hour, our line of rapid sealers are ideal units for companies looking to increase their production throughout.
---
Table Top "Stapler Style" Sealer - IPK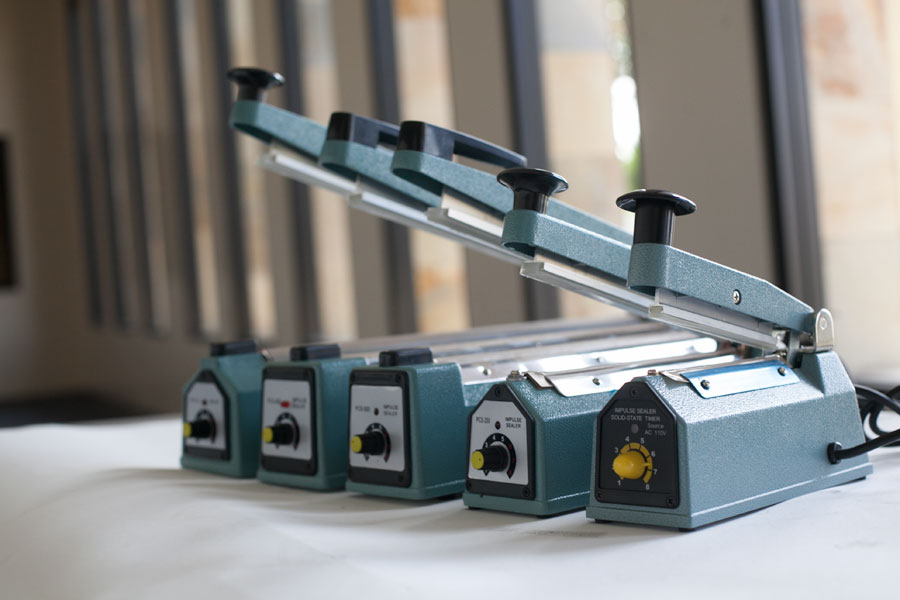 The IPK a series offers a range of seal lengths are certain to meet your sealing requirements. These units are affordable, small and portable. Even with their small size, the IPK series contains all the power necessary to seal Mylar Foil up to 6.0 mils in thickness. These entry- level units are ideal for start-up companies, prototype development and lab environments.
BUYER BEWARE: There are units available from other sites that have a similar style and function. Appearances are where the comparisons stop. The IPK series from IMPAK offers a 5mm (opposed to 2mm)wide seal and an internal electrical construction that provides the end user with an impulse sealer that out performs the competition.
Benefits:
Elements Last Longer- Wider elements last longer and require fewer replacements over the life of the sealer
Cleaner/More attractive hermetic seal: Wider elements seal more material surface, resulting in less curling of material and ability to seal through small particulates.
Shorter Seal Cycle- Higher amperage reduces seal time
Seals up to 6.0 mil foil material- Higher amperage allows for the sealing of heavier duty material containing foil.
Sizes Available: 4", 8", 12", 16" and 20"
---
Hand Held Constant Heat: HOTJAW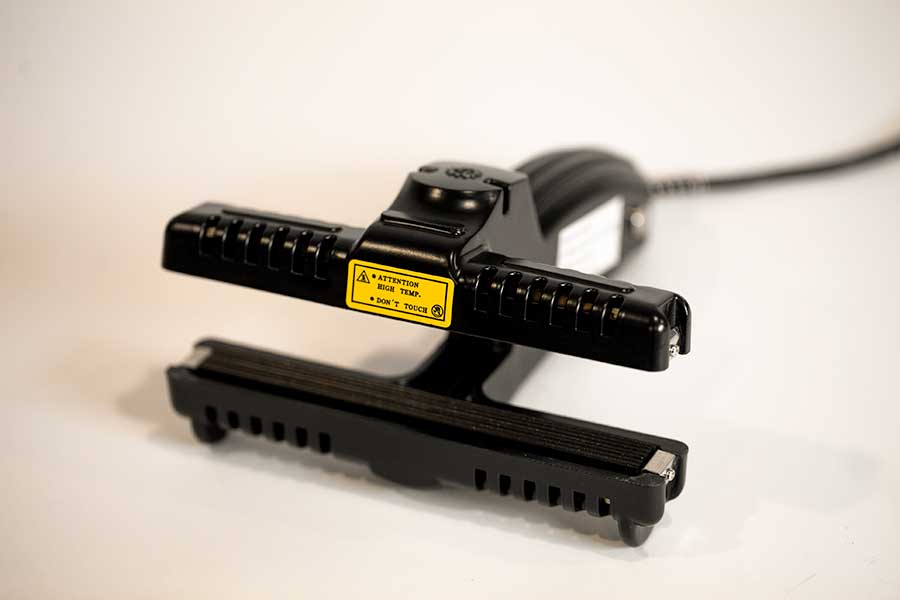 A favorite amongst emergency preppers and food storage specialists, the HOTJAW with a 9/16" wide seal bar is an ideal unit for sealing 7.5 mil MylarFoil. The HOTJAW has two temperature settings that controls the pair of constant heat serrated seal bars, which makes this unit ideal for sealing foil MylarFoil, polypropylene, cellophane and other laminations.
---
Home and Laboratory Vacuum Sealer- KEEP FRESH 108 (KF108)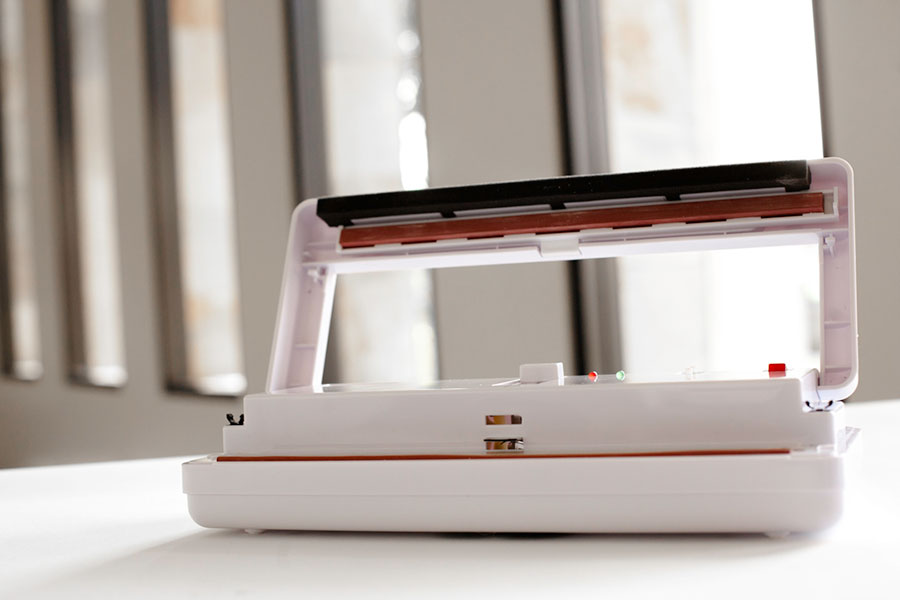 The Keep Fresh 108 is a low cost solution for individuals and families that would like to explore the benefits of home food storage. While this unit is not intended for industrial applications, however this unit has become popular with R&D facilities that require low volume laboratory work.
The KF108 is ready to start working for you the moment you remove it from the box. The simple layout allows the end user to select a desired seal and vacuum time using analog display. You will find the KF108 differs from other home units that are available due to its vacuum nozzle technology. Following the design of industrial grade vacuum sealing equipment, the vacuum nozzle allows the users to seal both foil and non-foil pouches. Users are no longer required to purchase expensive special surface or embossed bags.