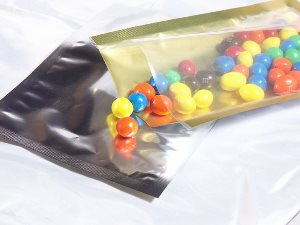 Vista™ Window Bags
IMPAK's Vista Bags are a great example of flexible package design. Constructed of one clear panel, Vista Bags were orignally used to package electronics. But what makes them perfectly appropriate for electronics (a moisture sensitive product) makes them a superior packaging solution for food, spices and novelties. The clear panel also makes it easy to monitor internal RH level via a humidity indicating card. Shop below.
All of our mylar bags are manufactured from food grade and FDA approved material. They can be used for non-food industries as well such as chemicals, pharmaceuticals, compounds, medical, adhesives, automotive, machinery, electronics, telecommunications, defense, aerospace, exports and many more.
Did you know... that IMPAK makes a "label ready" pouch with a large vista window?
The application of a simple product label creates a more advanced consumer friendly appearance without the cost of prepress charges and lead time required for custom printed pouches.
All Vista Pouches
Need help choosing? Looking for Custom Print? Contact IMPAK
Showing 1 to 40 of 40 (1 Pages)