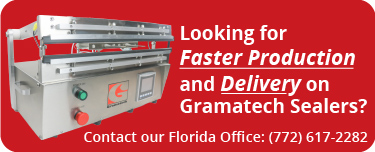 These sealers are made from high-grade 304 stainless steel and an anodized aluminum frame. It's perfect for medium to high production use and comes with dual 0.25" heating elements, Unitronics color touch screen, single-ported exhaust, Venturi vacuum pump, and dual retractable nozzles as standard features.
Available as seal-only or with dual vacuum options
Notice: "In-Stock" items are NOT ready for immediate shipment! Machines are built-to-order, in the USA. Call ahead for estimated delivery dates.
Product Image

Part Number

Machine Description

Price

Shop

GXVS-21TS

21" Dual Retractable Nozzle Vacuum Sealer
$5,495

BUY

GXVS-21C

21" Custom Pak Retractable Nozzle Vacuum Sealer
$8,895.00

BUY

GXVS-26TS

26" Dual Retractable Nozzle Vacuum Sealer

$5,995
BUY

GXVS-26C

26" Custom Pak Retractable Nozzle Vacuum Sealer
$9,095.00

BUY

GXVS-31TS

31"

Dual Retractable Nozzle Vacuum Sealer

​
$6,495

BUY

GXVS-31C

31" Custom Pak Retractable Nozzle Vacuum Sealer
$9,595.00

BUY

GXVS-36TS

36"

Dual Retractable Nozzle Vacuum Sealer

$6,995

BUY

GXVS-36C

36" Custom Pak Retractable Nozzle Vacuum Sealer
$10,995.00

BUY

GXVS-51TS

51" Dual Retractable Nozzle Vacuum Sealer

$10,795
BUY
GXVS-61TS

61" Dual Retractable Nozzle Vacuum Sealer

$11,295
BUY
GXVS-51CPC
51" Custom Pak Retractable Nozzle Vacuum Sealer
$16,075
BUY
GXVS-61CPC
61" Custom Pak Retractable Nozzle Vacuum Sealer
$16,775
BUY
Showing 1 to 23 of 23 (1 Pages)