Horizontal Large Frame Impulse Sealer
Horizontal Large Frame Impulse Sealer Equipment (Horizontal LFIG)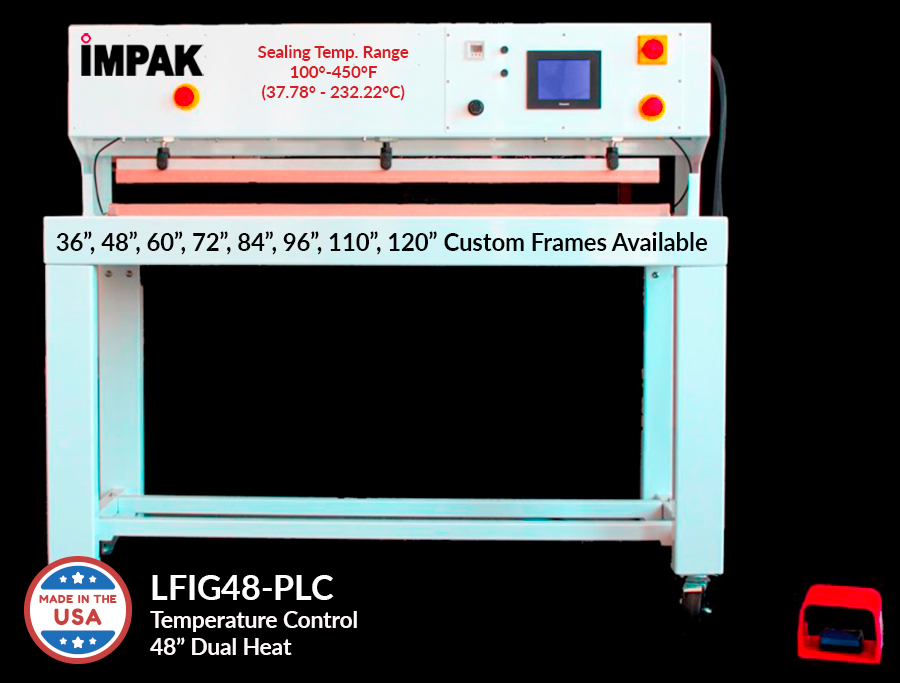 IMPAK Corporation's LFIGs are industrial quality heavy-duty purpose-built heat sealer machines constructed from welded steel. All bag sealers are pneumatically powered and calculated to provide an airtight/watertight seal. Each bag impulse heat sealer machinery unit features a low-pressure safety close and redundant emergency stop features. The heat sealers can be constructed as tabletop units or in seal lengths of up to 240 inches. Each bag sealer machine is ideal for sealing ranges of material including polyethylene, laminated films, nylon, and even PTFE. Sealers are available in either standard thermal impulse heat or with repeatable and verifiable controls for medical or specialty applications.
Every IMPAK sealer is an ideal replacement for all VERTROD STYLE machinery.
Horizontal Impulse Heat Sealers are open back feed-thru offset bag sealers. Material is introduced from front-to-back
The horizontal large frame thermal impulse sealer (LFIG) is ideal for all medical pouch-sealing applications where accuracy is crucial

Proudly made in the USA

Available

seal lengths: 36", 48", 60", 72", 84", 96", 110" or up to 210" (customizing available)
OPTIONS INCLUDE:
Standard or validate-able impulse sealer

Flat Band Elements (1/8", 3/16", 1/4", or 1/2")

Round wire cut-off

Cold or Hot-wire cut

Scrap blow off

Flying Knife

Dual or multiple elements

Water Cooled bars

Vacuum and Gas Flush

Water Chiller

Opti-Touch safety switches

110V or 220V

Custom Options Available
---
" Your machine guys promised our 60" bar sealer would ship in 8 weeks --------- it was on our dock in less than FIVE" ------ Comment to IMPAK General Manager ------- From Manufacturing Engineer at a Multinational Military Contractor (Forth Worth, TX)
Did you know... IMPAK builds customer machinery for custom applications?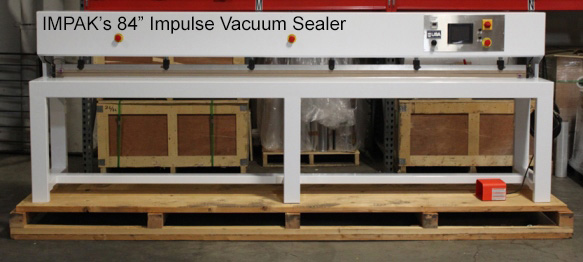 These are pictures of an 84" (2134 mm) impulse sealer for an Indian tobacco farm packing dried tobacco.
---
​


Learn More
---
Are you looking for a Custom Impulse Sealer? Send your inquiry to sealersales@impakcorporation.com or call 310-715-6600, please.
Ask us about our custom made equipment for your application.
IMPAK's Horizontal Large Frame Impulse Sealers are available up to 300".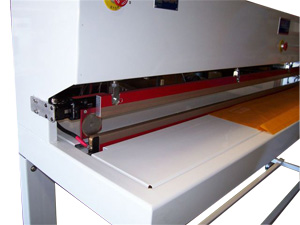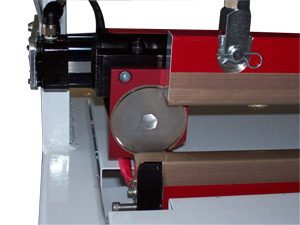 Pneumatic Flying Knife Close Up View of Pneumatic Flying Knife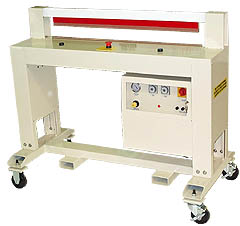 Horizontal Bag Sealer w/ Direct Drive LFIG36OBS Horizontal Sealer w/ Temperature Control
---
Heavy Duty Large Frame Industrial Impulse Sealer (LFIG) Production Allocation
Due to the IMPAK machinery team's busy production schedule, currently we have heavy-duty industrial impulse sealer project allocations for two standard ones and one expedited one per month. Please get your project spot as soon as possible so that you can get your large frame impulse sealer machine manufactured in time for you.
Our usual Large Frame Impulse Sealer (LFIG) custom building lead time is 9-10 weeks, and 7-8 weeks for expedited orders.
There are no products to list in this category.