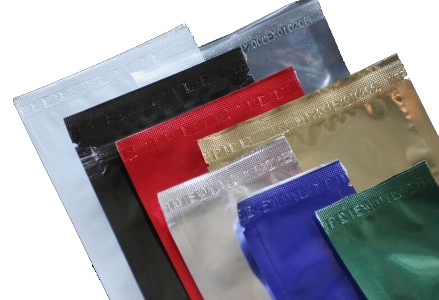 IMPAK carries colored Mylar foil packaging in an impressive array of colors. All our Mylar bags are food grade and FDA approved material except static shielding bags. Shop below.
Mylar pouches are made from a multi-layered material that is resistant to tears and punctures. Strong barrier properties protect against light, oxygen, moisture and other contaminates. Sealed and paired with oxygen absorbers or desiccants, they create a complete sorbent system for long term preservation of contents.
IMPAK's MylarFoil™ pouches are used as smell proof bags and can be certified as child-resistant packaging when produced as a pouch with no tear notch. See our Child Resistant Pouches section for pre-certified formats.
Our current stock colors are:
| | | | | | | |
| --- | --- | --- | --- | --- | --- | --- |
| GOLD | RED | WHITE | BLUE | GREEN | SILVER | BLACK |
Did you know?
The Mylar is actually not colored. Mylar is the brand name for a special type of pressed polyester film, more generally known as BoPET or biaxially-oriented polyethylene terephthalate. How is the color added? Molten polyethylene terephthalate (PET) is extruded as a thin film onto a chilled surface such as a roller. That makes the Mylar. Then, vapor deposition is used to evaporate aluminum, gold or another metal onto the surface. That makes the foil. The color is actually added to the foil, not the Mylar itself.
---
Table For Available Color Mylar Bags
Need help choosing? Looking for Custom Print? Contact IMPAK
Showing 1 to 30 of 35 (2 Pages)