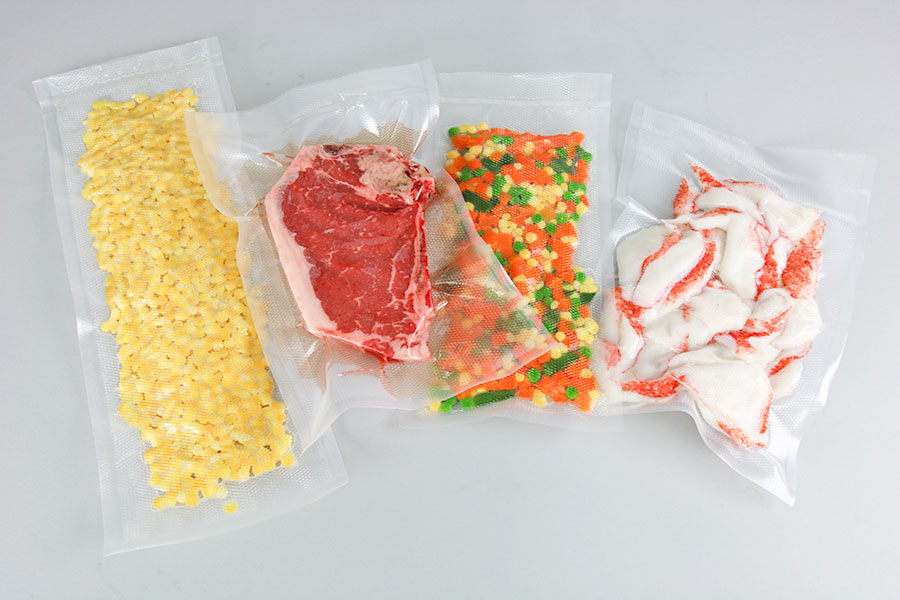 Textured Vacuum Bags & Rolls
Channel bags, FoodSaver® bags, Seal-A-Meal®, Fresh Guard, FoodShell, special surface bags, or embossed vacuum bags all different terms for the bags are used for external clamp vacuum sealer. IMPAK is proud to feature a number of pouches which are compatible for use in various FoodSaver, CounterMate, ARY, VacMaster, Cabela's Vacuum Sealers, Minipack Cyclone series, Magic Vac, Black & decker, Weston's and other home vacuum sealers. You can make a purchase of cases or bundles of pouches. If you would like to verify that our bags work with your specific unit, you can request samples here.
Our food saver channel bags are manufactured out of the tough 3.5, 4, or 5 mil materials opposed to other manufacturers' common 3 mil plastic. Our textured vacuum bags are very similar to the FoodSaver rolls and bags. We use durable 3.5 ~5 mil materials and different texture design. One side of the bag is designed with a textured surface outside and the other side is smooth and clear. IMPAK has many different sizes of embossed vacuum bags available and we can make any custom size according to your requirements. Our bags are much more competitive than FoodSaver bags, Seal-A-Meal and other special surface channel bags. Shop Below.
Highlights of IMPAK's food saver bags:
All food grade
When vacuum sealed, gives an air-tight hermetic seal
Keeps food fresh 4 to 5 times longer than storage bags do in the refrigerator
Made with top-grade Nylon/Linear low-density polyethylene (NY/LLDPE), superior quality 3.5~5 mil material with texture design
Can be used with FoodSaver brand sealers, easy to use with any external clamp vacuum sealer.
Competitive price – high cost saving (compare with FoodSaver bags)
Various sizes available (2.5x10, 4x6, 6x8, 6x12, 8x12, 10x14, 12x16 and 16x26)
Great bags for keeping your food fresh up to 5 times longer
Compatible with:
FoodSaver, CounterMate, Tilia bags, Seal-A-Meal, FoodShell, Deni Freshlock, Cabela's Vacuum Sealer, Minipack Cyclone Series, Kenmore, Weston's PRO-2100, PRO-2300, VacMaster bags, Magic Vac, Black & Decker, Ary bags
IMPAK Recommends the: CounterMate Vacuum Sealers
Need help choosing? Looking for Custom Print? Contact IMPAK​
Showing 1 to 12 of 12 (1 Pages)