All-Electric Vacuum Sealers (EVS)
EVS Series - All-Electric Vacuum Sealers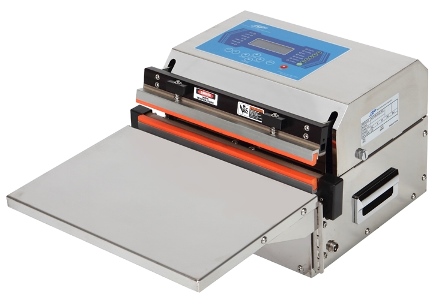 IMPAK introduces the first all-electric vacuum sealer following upon the introduction of our innovative all-electric tube sealer.
These nozzle type all-electric industrial vacuum sealers are outstanding units for medical and clean room use. Unlike air driven pneumatic sealing machines, IMPAK's electric sealers have no need for an air compressor source. Since the sealers do not require an air compressor unit, these motor driven vacuum sealers will work more quietly than other pneumatic driven vacuum sealers on the market. Our EVS series sealers, available in 14" and 18" wide units (350mm & 450mm respectively), come STANDARD with upper and lower dual elements assuring hermetically sealed bags. High quality stainless steel (all polishing STS304-1.5T or 2T) frame and MYCOM controller with the highest industry quality components deliver a production ready industrial grade machine that will be reliable and long lasting in any high production work environment. With a 19" x 14" footprint, these compact units can fit into extremely small places even with the highly recommended and eminently useful stainless steel tray the total footprint on the unit is 19" x 26" on the larger 18" wide seal bar unit.
---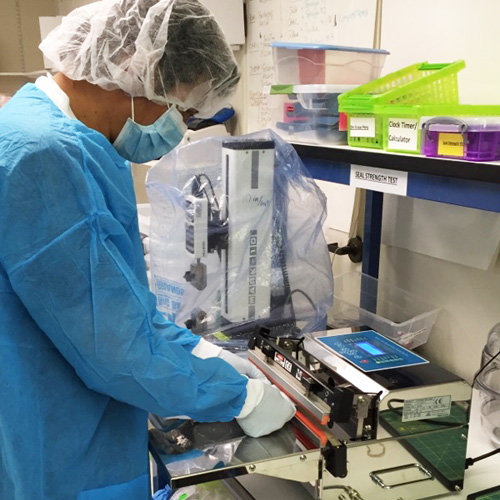 Here is an example of our client's medical application of EVS machine.
- Small footprint.
- No noise from an air compressor.
- Quick and easy bag sealing.
- High quality stainless steel body and frame.
- Long lasting with durable parts.
---
Are you Considering a Uline Vacuum Sealer?
Uline is a packaging distribution company that is well known for quality products, extremely rapid service and product availability. The machine pictured below replaced 4 Uline units at a major East Coast Bio-Medical Facility. They were experiencing unusually excessive maintenance and repair issues. With our EVS series they saw instant improvement, the cycle time was faster as well as the quality of the seal was better. They considered the replacement a well worth upgrade and a valuable investment.
Showing 1 to 4 of 4 (1 Pages)