IMPAK stocks pouches with a variety of zipper profiles, in sizes as small as 2" and as large as 36".
All of our ZipSeal Mylar bags meet FDA standards for food storage (except the static shielding bags not intended for food products).
See our full list of stock ZipSeal pouches below.
ZipSeal pouches are especially popular for food applications but are also used in many non-food industries such as chemicals, pharmaceuticals, compounds, medical, adhesives, automotive, machinery, electronics, telecommunications, defense, aerospace, exports and many more.
Single and DualTrack ZipSeals
The zipper on the majority of our pouches is a Single Track ZipSeal which is comprised of one piece of material which protrudes from the pouch that fits directly inside of a track on the opposing side of the pouch. For a stronger seal, we offer a DualTrack ZipSeal with two slots and two tracks. The double track zippers are often used on large bags and in instances where sensitive and valuable products are being packaged because the second seal offers greater protection. DualTrack ZipSeal is also widely used in liquid/viscous applications where the pressure applied by the product might otherwise force the ZipSeal to open from the inside.
Other Unique ZipSeals
Powder ZipSeals feature small channels in the ZipSeal track that allow any powder trapped in the zipper to simply drop back down into the bag before and during the process of sealing the bag shut. Multi-Use ZipSeals has a wide flange and heavy-duty construction made to outlast other zippers after repeated use. Child Resistant ZipSeals are designed to prevent the package from being opened by children and come in several different formats including a push-pin style latch, a hook and lock, and even a thumb-hole press to close, pull to open zipper.
To learn more about IMPAK Corporation's ZipSeal capabilities and our range of zipper options, visit The ZipSeal Glossary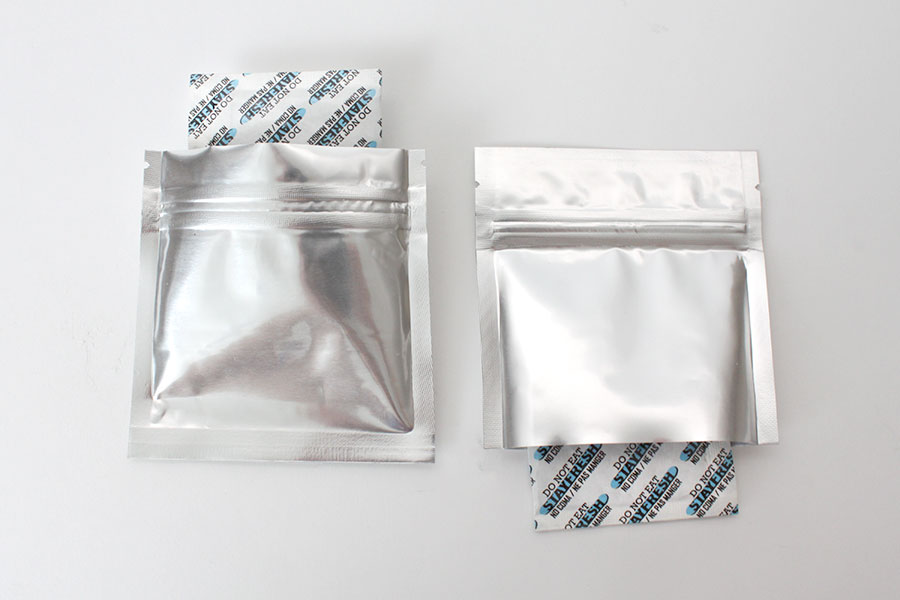 Foil Tamper Evident Bags | Foil ZipSeal Bags
Not sure what OZE or ZTE mean? This refers to where the seal is. On a ZTE or Zipper Tamper Evident bag, the top of the bag is pre-sealed above the zipper so it is filled from the "bottom." On an OZE or Open Zipper Zipper End bag, the bag is sealed on all sides except the zipper end which means it can be packed and closed without being sealed. Each has its advantages. Learn More: OZE vs. ZTE ZipSeal Bags Guide
Related ZipSeal Products:
Refine Search